Article 4 of the Universal Declaration of Human Rights approved by the UN states that ''No one shall be held in slavery or servitude; slavery and the slave trade shall be prohibited in all their forms.'' But how are things really? Does slavery still exist? Unfortunately, yes. The reality of Mauritania is an example of this.
Mauritania, whose name derives from the Phoenician word "mahurim", "man of the West", is the link between Arab North Africa and Black Africa. Rocky plateaus, deep wadi, sand dunes, charming caravan towns and pristine beaches, characterize this country where nomadic and sedentary life patterns have coexisted for centuries. The surreal beauty of nature collides with a hidden reality: slavery. Abolished, criminalized and denied by the government, slavery is still a widespread and tolerated practice. Those who should enforce human rights, the UN representatives, have elected Mauritania as a new member of the Human Rights Council for a three-year term, starting in January 2020 (also note the presence of Venezuela and Libya …). I wanted to ask Saleh Lo, a Mauritanian portraitist and painter, who has exhibited and has taken part in projects in Nouakchott, Dakar, Carthage, Barcelona, Berlin, Mumbay and Paris. Celebrated by international critics for his talent and his artistic and political commitment to dealing with issues such as racial discrimination and the denied existence of slavery, Saleh has worked closely with freed slaves and activists for whom, despite the fact of being free, freedom becomes very ambiguous. Their new condition puts them into an intermediate space where they are physically free, but have no space in society. By painting their portraits, Saleh creates a way to restore their dignity and their right to a civilized existence.
«Sometimes and for some people can be difficult to understand the message behind a portrait since the message is not clearly defined but this is not important for me. For me what is important is paint a human being and the richness of his soul.» 
Saleh Lo
Saleh, how does your artistic story begin?
I started drawing when I was 5 years old. I had always a pencil with me, when I was child, and I could spend hours and hours by drawing. All my family knew this vocation and passion I had (and I have) for drawing and for them, as for the majority of people around me, it was wired how I could spend all day doing that. Only my mother supported me since the beginning, pushing me to move forward and forward. Here in Mauritania, people are not sensitized and exposed to art so, people really did not understand why I was interested and passionate about that. At 17 years old, after having obtain my diploma, I thought I could go abroad and start a school of art (since there are not school of arts in Mauritania). But my family couldn't afford the expenses. Hence, I decided to learn and continue developing my drawing skill by myself, following videos and tutorials on YouTube. I learnt how mix colors on a canvas and start to paint. But at this stage, even if I knew drawing and painting were the only thinks I was very interested in, it was impossible and difficult for me to understand how I could transform this passion in a real job. I was working in a hotel and painting in my free time since when I had the occasion to organize my first solo exhibition in 2012 - before this, I had done already collective exhibitions - and I decided to make painting my job.
How does the artistic reality present itself in Mauritania today? Is art a recognized and valued resource?
Mauritania is a country devoid of art schools where access to artistic training is not a reality. The majority of people are not sensitized about art, its meaning, power and the role that art can play in the society. So, I would say that majority of people do not recognized art as a valued resource. However, since last 20 years, a new community of artists was born and is contributing to dynamize the artistic environment of the capital of the country, Nouakchott. Since there, several artistic places have built up, creating new cultural and artistic opportunity on one side, and increasing awareness of public opinion on the other side. But we are still talking about a minority.  
You lived in a slum in Nouakchott. How much it influenced your vision of life and consequently your art?
I was born and lived until 27 years old in a quarter of the city called "Cinquieme", "The fifth", and yes it can be considered as a slum. It is multicultural neighborhood, very vivid, colorful and dynamic, where different ethnicities and nationalities live together. Of course, living there influenced my life and the vision of my life, consequently my art. For example, my first solo exhibition was on children of the street because it was (and it still is) a reality of this part of the city. 
Although slavery was officially abolished in 1981, criminalized in 2007 and denied by the government, it is still a widespread practice. Let us remember that it is a slavery by birth that is transmitted through the matriarchal line. Are the practices related to slavery accepted and tolerated or do they cause indignation and dissent in local public opinion? 
Yes, here in Mauritania, there are still several forms of slavery. It is important to understand what slavery means in Mauritania. A slave is a person living and working full time for his/her master in his/her house. The slave cooks, cleans, takes care of the house, but he/she is not paid. A slave does not have day off, does not have an own house, does not go to school. Several time, the master can use the slave as objects of pleasure as well. Living in this house and serving the master's family is the normality for these people and they even could not image to decide and think about their own life because, basically, they do not know the concept of freedom. Yes, you are right: slavery is transmitted through the mother's line. If you are a slave, the day you give birth to a child, this child is a slave as well and the master can sell him, give him away or rent him. Concerning the reaction of public opinion, the public opinion is divided between people that consider that there is no slavery in Mauritania and people that continues to be indignant and protest about this reality. Talking about slavery can be still a taboo argument in certain social contexts.  
Is freedom from slavery condition really 'free'? Do you believe that art, culture and education can be winning weapons to combat this physical and psychological violence?
Freedom is freedom, and it has not equal. However, it is true that, sometimes, a freed slave can face some difficulties and obstacles in integrating the society. This can be for example due to the fact that these people do not have any documents (like ID) or any economic saving that can help them to run a small business for example. And yes absolutely, art, culture, education are the only tools that can increase awareness, and consequently reduce ignorance, prejudices as well as fears.
Mamadou, Tibiba, Aida… They are not just the titles of your portraits. They are the names of the protagonists of your works. Did they want to talk about themselves and be discovered? 
Aida, Mamadou and Tibiba are part of the collection on "metissage" (mix people", in English). I am a mixed people, meaning that my father is Wolof and my mother is a Moor, so they belong to two different ethnicities. The context of Mauritania played a key role in the issues that are now the subject of my work. In fact, according to me, one of the biggest challenge Mauritanian society is facing today is the coexistence of different communities. These communities are different in their customs, traditions and languages, but they are equal because their rights and duties are equal. I believe in the power of art as a vital link that reminds us of our common humanity and helps us build bridges between cultures and better identify with others. Based on this principle and using art as a platform, I seek to promote social integration in Mauritania, to reduce discrimination in all its forms, and to support an inclusive national identity where cultures and ethnicities stand for diversity and richness and not for minorities and discrimination. Through my works, I want to continue my reflection on the role that art has played and can continue to play in a modern multicultural and multi-identity society.
I was intrigued by two portraits of a man and a woman holding a megaphone in their hands. What were they screaming?
Yes, the megaphone is an object that recurs in two different collections. The man is part of "Battling to Normalize freedom" collection, while the women belongs to "Libre ou esclave", ''Free or slave'', and they represent people demonstrating against the imprisonment of Biram Dah Abeid - president of IRA, Initiative for the Rebirth of the Abolitionist Movement, a Mauritanian anti-slavery group founded in 2008.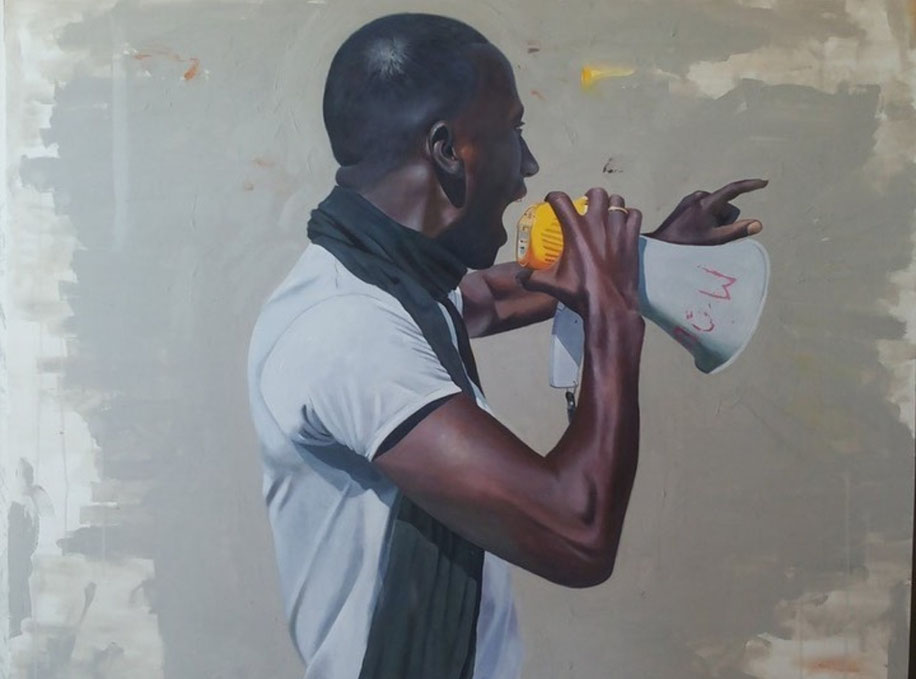 What emotion do you feel when these people look at their portrait? How important is empathy?
I always invite people that I painted at the opening of the exhibition. According to me, this is not only a way to thank them, but also a way to give them visibility. Some people are proud and happy to be painted since they know that they bring a message behind them. Other can be shyer. I mean it depends. And about empathy, I can't paint somebody that I don't' feel it. So, yes, empathy is the first layer of my works.
Your works have particularly struck me because you do not offer us the usual 'spectacle of pain', a path that, according to my point of view, leads only to passive compassion. You put us in front of the dignity of real people. Why do you think there is a tendency to 'spectacularize' the pain of those voiceless people, damaging their right to dignity? Where is the limit between giving visibility to 'shake hearts' and giving visibility to attract attention/audience?
I think that "spectacularize the pain" is the easier and quick way to communicate an issue, topic. It goes straight to the point and it is easy to understand for everybody. So, it is not important which other consequences can spill over from this spectacularization of pain. On the contrary, by my art, I want to communicate around a topic, yes, but, since my topic regard always people, it is crucial for me to protect these people, protect and enhance their dignity. Sometimes and for some people can be difficult to understand the message behind a portrait since the message is not clearly defined but this is not important for me. For me what is important is paint a human being and the richness of his soul.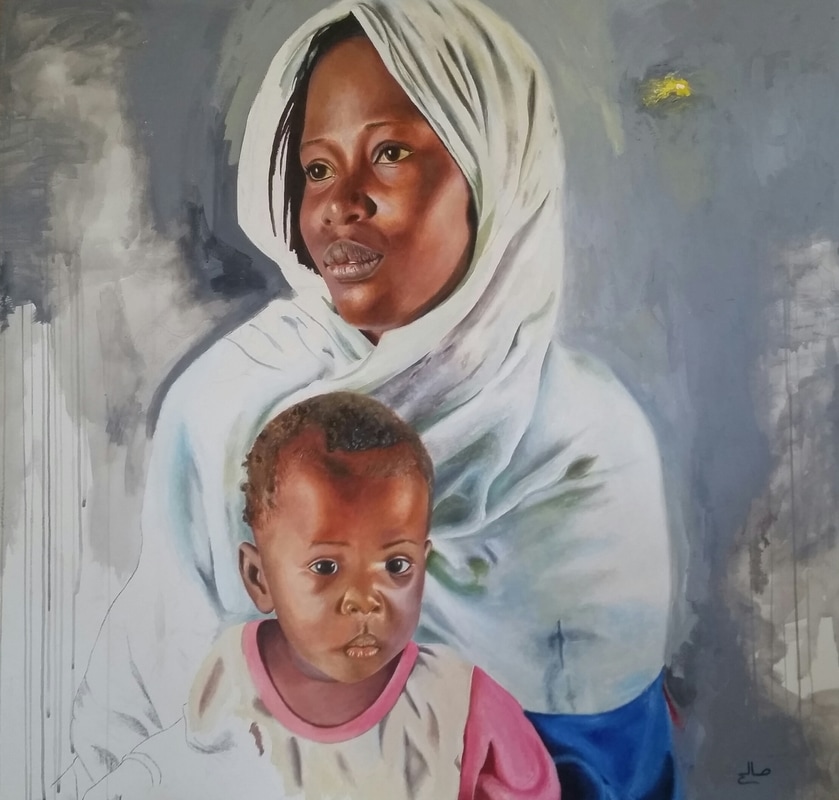 As happens in many countries that deny the existence of social problems, giving a voice to the victims becomes difficult and dangerous. Have you ever been victim of any form of censorship?
No, never.
Even if not very present in the collective imagination, Mauritania is a country that has always fascinated me. This interest was born on a clear night. I want to share with you the memory of that special moment. It was one of the usual evenings in calm and peaceful Bouarfa, a city in the deep southeast of Morocco where I lived for a language volunteer project. The caretaker of the school where I lived came running to call me: ''Come my friend beida - white. They have arrived. They want to play and sing for you''. Not knowing who he was referring to, I ran down and found myself in front of a group of amber-skinned men who greeted me with a smile whiter than the moon. They looked like princes wrapped in beautiful blue dresses edged with gold, and around their necks amulets similar to those I had seen used as a compass in the desert. They were Mauritanian singers who moved to bring their music and to put joy into our nights. I was unable to communicate with them because of the language, but that night we danced and laughed happily, as if we were brothers. As quickly as they arrived, so quickly they vanished into the dunes formed by the la3jaj, the red wind. Since then, I have always felt a strong curiosity for this almost unknown country. Music has always represented a source of ''outlet'' and a form of identity and cultural claim. Flamenco or gnawa music are two well-known examples. What role does music play in Mauritanian culture? Who are the Iggawen?
Iggawen is the Assania name - Assania is the Arabic dialect of Mauritania - for singers who have acquired their art by directly imitating the musical talents of their ancestors. They performed the T'heydinne, a Moorish epic ensemble of Mauritania. Mauritanian music is, like the different ethnic groups that make up the country, a multi-cultural music, with at the origin a strong recognition of its only classical branch, the Iggawin (as you mentioned), the medh, songs to the glory of the Prophet of Islam, peculiar to the "black Moors", the redh, dance music with a background of tam-tams, as well as the musical traditions of the black African ethnic groups. Although traditional music is rather seen as legitimate when practiced by men, perhaps the two most internationally famous personalities today are two women from Iggawin families, Dimi Mint Abba and Malouma. Young people listen mainly reggae and rap.
Despite the enormous human, naturalistic and cultural potential - we recall among the many attractions the cave paintings left by the bafours and the over 30,000 manuscripts found in the "villes anciennes" of Chinguetti, Ouadane, Tichitt, Oualata - Mauritania is still an unknown country. How realistic is it to think that Mauritania could become a future destination for alternative cultural tourism?
I don't know if there is a will to make Mauritania a touristic country. I know that there is a governmental office in charge of it. I think that there are beauty and richness in all countries of the world, so I don't want to say that Mauritania is the most beautiful country in the world but there are of course some attractions that are interested to discover. Here, the beauty comes mainly from the wild nature, meaning that there are not monuments or other human beautiful constructions. If you come in Mauritania, you have to expect to see sands of dune, green oasis, a beautiful and uncontaminated beach on the ocean, more than all the old cities you mentioned. 
To conclude, do you believe that travel, understood as the exploration not only of a place, but as the discovery or rediscovery of a set of human heritages, can be a good way to build and cultivate the concept of the self as the founding unit of a great whole called humanity?
Of course. Travelling, being in contact with different realities, discovering other cultures is the way to understand the all human being belong to the same big family, or great whole, as you said.
I thank Saleh for the great opportunity he has offered us. His testimony as a man and as an artist deeply affected me, as well as his strong and important mission. If you want to follow Saleh Lo's work, you can visit his personal website or follow him on his official Instagram page.
And after Africa, get ready to completely change horizon. In the next interview we will leave for Mongolia. Jantsankhorol Erdenebayar aka Jantsa, a famous sculptor who represented Mongolia at the Venice Biennale achieving global success, will introduce us to the Mongolian nomadic culture.